Pre-planting cucumbers: How to get healthy young plants
Cucumbers are popular vegetable plants among gardeners. However, as cucumbers are very thermophilic plants, it is best to pre-grow them so that you can harvest them for a long time. In this article, you will find out everything you need to know about growing cucumber plants.
Quick Overview
Sowing cucumbers - pre-cultivation of cucumber plants
Sowing date: Beginning/mid-April. Cucumbers grow quickly. If sown too early, they will not have enough space in their seed pot. 3-4 weeks before the planting date is ideal.
Sowing depth: 1-2 cm
Germination temperature: 20-29°C
Germination time: 3-10 days
Pot size: min. 10 cm x 10 cm, as cucumbers do not like to be pricked out
Sufficient light, at least 12 hours a day to prevent the seeds from going yellow
Keep the soil sufficiently moist until germination, but not wet - it should not dry out
When to propagate cucumbers? - The right time to sow
Garden centers often only have a few varieties of pre-grown cucumber plants to choose from. You have many more options of different varieties if you grow cucumbers from seed. From pickling cucumbers to salad cucumbers to snake cucumbers, the choice is huge. You can find out more about the different cucumber varieties in our article. However, cucumbers do not tolerate frost and can only be planted outdoors after the last frosts in spring - which is usually in mid-May after the Ice Saints. They are therefore often pre-cultivated indoors to extend the harvest period. However, you should not sow cucumbers too early, as they grow quite quickly. If you sow them too early, they can go to seed if there is too little light, or they will grow too large and no longer have enough space in their seed pot.
Growing cucumbers in a greenhouse - then the cultivation begins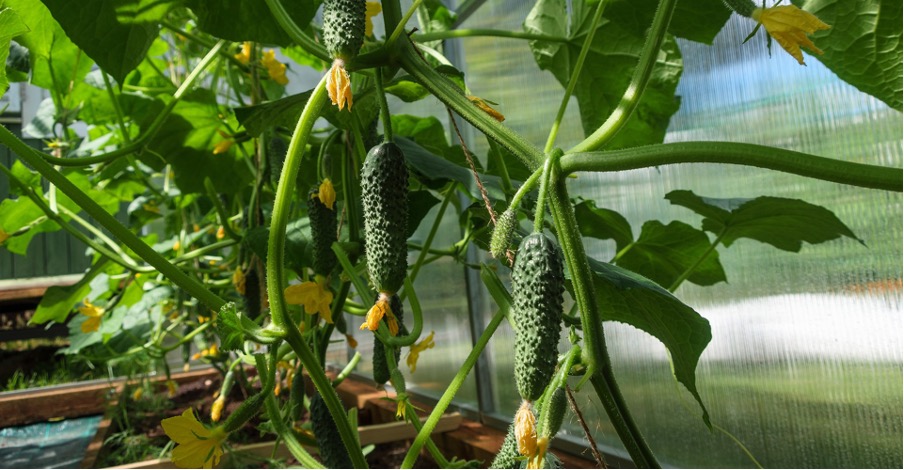 If you want to plant cucumbers in an unheated greenhouse, you may be able to plant them out a few weeks earlier than outdoors. You can therefore also start growing cucumbers a little earlier, at the end of March, more likely at the beginning of April. You should start growing your cucumber seedlings approx. 3-4 weeks before the planting date. This will give them enough time to get strong but still fit into their seed pots.
If you have a heated greenhouse, you can even sow cucumber seeds directly into the soil in the greenhouse in March/April or plant out pre-grown seedlings. When growing or sowing in March, however, you should make sure you have enough light or use plant lamps, as the days do not yet have enough hours of light to provide your plants with enough light to grow.
Pre-planting cucumbers for the open field
If you want to propagate cucumbers outdoors, you should also start growing them approx. 3-4 weeks before the planting date. Cucumbers can only be planted outside from mid-May, as it is otherwise still too cold for them. The right time to sow cucumbers is therefore around mid-April. This is also when the days are longer and your cucumber seedlings will get enough hours of sunlight to grow.
Direct sowing of cucumbers in the open field
You can also sow cucumbers directly outdoors, but the shorter growing time means you can start harvesting later. However, the temperature should be at least 15°C, which is usually only the case in May when there are no more frosts. However, if you don't have enough space or light in your home, direct sowing is possible. Harvesting then begins about a month later, as pre-grown cucumber seedlings have a lead of about 4 weeks over direct-sown plants.
Grow your own cucumber plants: Instructions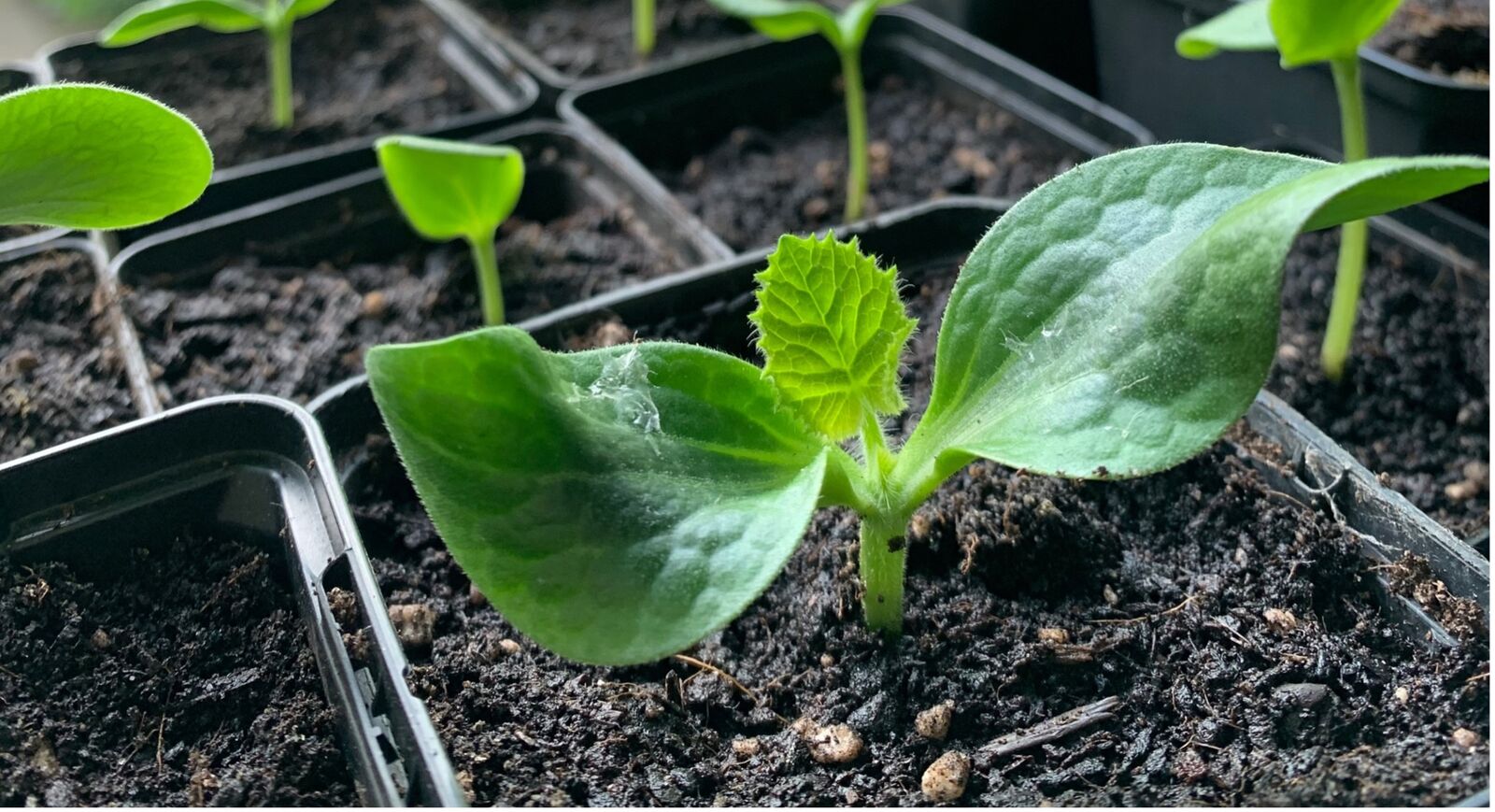 You need these things for sowing cucumbers:
Cucumber seeds, 1-2 seeds per pot
Cultivation soil
Spray bottle with water
Cultivation pots that are at least 10 cm x 10 cm in size
Possibly a propagator to keep the temperature and humidity high
Sufficient light, between 10-12 hours a day, through large windows or grow lights
Plant labels so that you know what you have sown in which pots
How deep to plant cucumbers?
Then place your cucumber seeds approx. 1-2 cm deep in potting compost. As they are dark germinators, they should be sufficiently covered so that they start to germinate. Cucumber seedling pots should be at least 10 cm x 10 cm in size so that your cucumbers have enough space until they are planted out. They do not like to be repotted as they have shallow and quite sensitive roots that can be damaged. Once you have planted your cucumber seeds, you should spray the soil with a spray bottle until the soil is well moist. You should then check 1-2 times a day to see if the soil is still moist enough. If you are using a propagator for germination, you should remove the cover at least once a day for 10 minutes, otherwise mold will quickly develop.
Which soil for cucumbers?
Sterilized, peat-free potting compost is best suited for sowing cucumbers. Sowing soil consists of equal parts garden soil, compost and sand. This means that your seedlings are not immediately supplied with too many nutrients and your seedlings develop strong roots. This means they are better equipped to withstand environmental influences later on. You can find out how to make your own potting compost in our article Making your own potting compost.
Germination time & germination temperature of cucumbers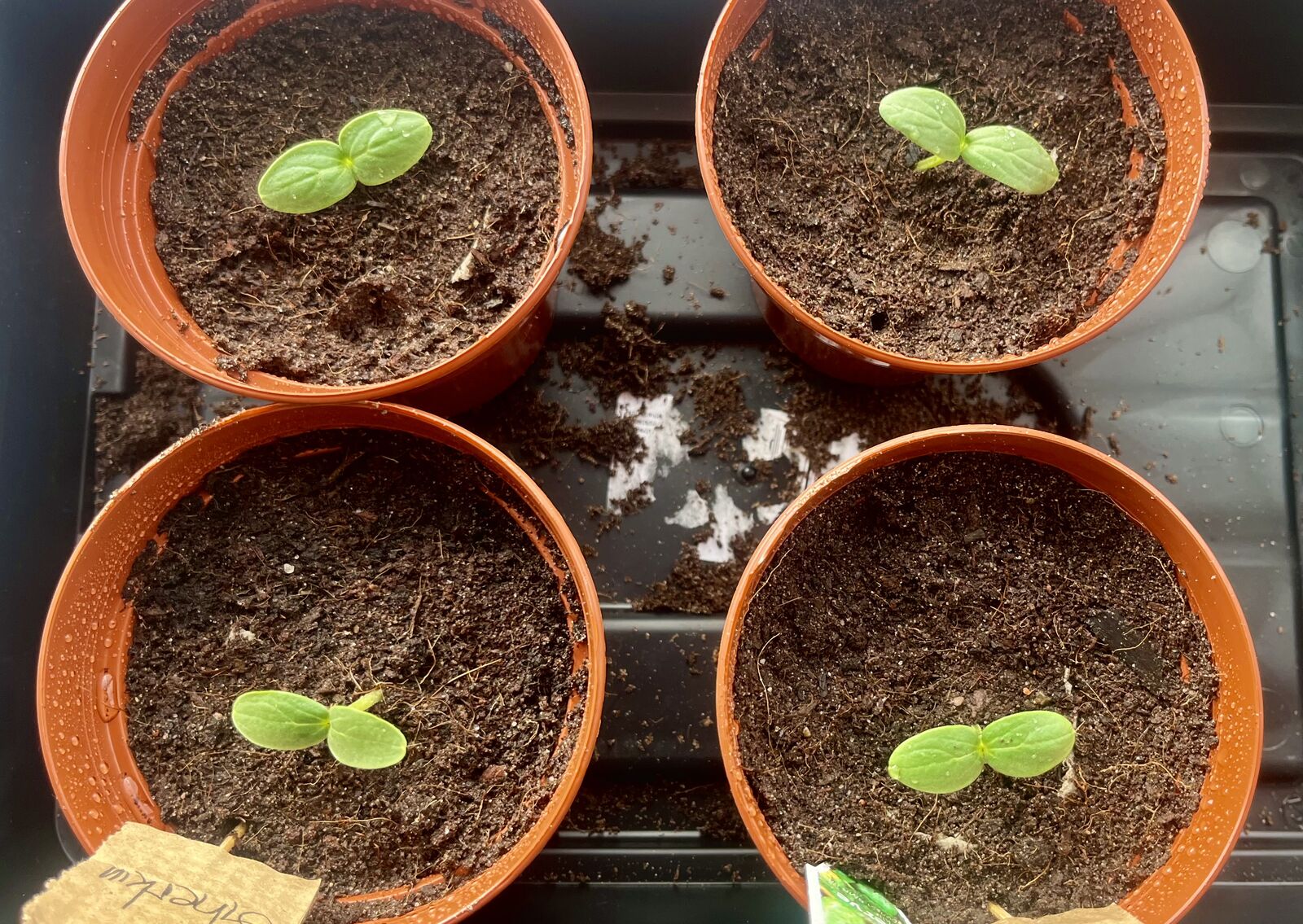 At the right temperature, cucumbers germinate after just 3-10 days. The ideal germination temperature for cucumbers is between a constant 20-29°C. If your seedlings are exposed to too many temperature fluctuations, this can impair germination. You should also ensure that your cucumber seedlings have sufficient light and moisture. The soil should not dry out until germination. Once your cucumbers have sprouted and the first leaves are visible, you can place them in a slightly cooler place, around 18°C. You can find more general tips and tricks for propagating cucumbers in our article Growing vegetable plants.
Pre-sprout cucumber seeds - accelerate growth
You can soak cucumber seeds in lukewarm water or chamomile tea for approx. 8-12 hours or overnight before sowing. Pre-soaking the seeds accelerates and improves the germination and growth of your cucumbers. The chamomile tea also kills germs so that your cucumber plants can grow healthier. You can find out more about how to pre-germinate seeds in our article Growing vegetable plants, under Pre-soaking seeds.
Cucumbers go yellow - sown too early
If you grow cucumbers on a windowsill, you should make sure that they get enough light. Your young cucumber plants need at least 10-12 hours of light a day. In March, however, the days are still too short for this. If there is too little light, your young plants can go to seed, which means they will grow tall and form thin, weak stems. For this reason, you should not sow cucumber seeds without plant lamps before the beginning of April. Cucumbers also germinate quite quickly, after approx. 3-10 days. As you can only plant them outside from mid-May, it is perfectly sufficient to start your cucumbers in April. Otherwise they will already be too big and won't have any more room in their pot.
Transplanting cucumbers - mistakes when repotting
When growing, plants are often sown in smaller pots first and later transferred to larger pots so that they have more room to grow. This saves you space at the beginning and you can pick out the strongest plants. Unfortunately, pricking out is always associated with stress for the seedlings. As cucumbers and other pumpkin plants are very sensitive to repotting, it is better not to repot them and sow directly into pots measuring 10 cm x 10 cm. 1-2 seeds per pot are often sown directly. If one does not germinate or is weak, you have a second plant for your garden. If both germinate, sort out the weaker seedling. Otherwise the two plants will take nutrients from each other and become less strong and healthy. You can find out more about repotting plants in our article Transplanting vegetable plants.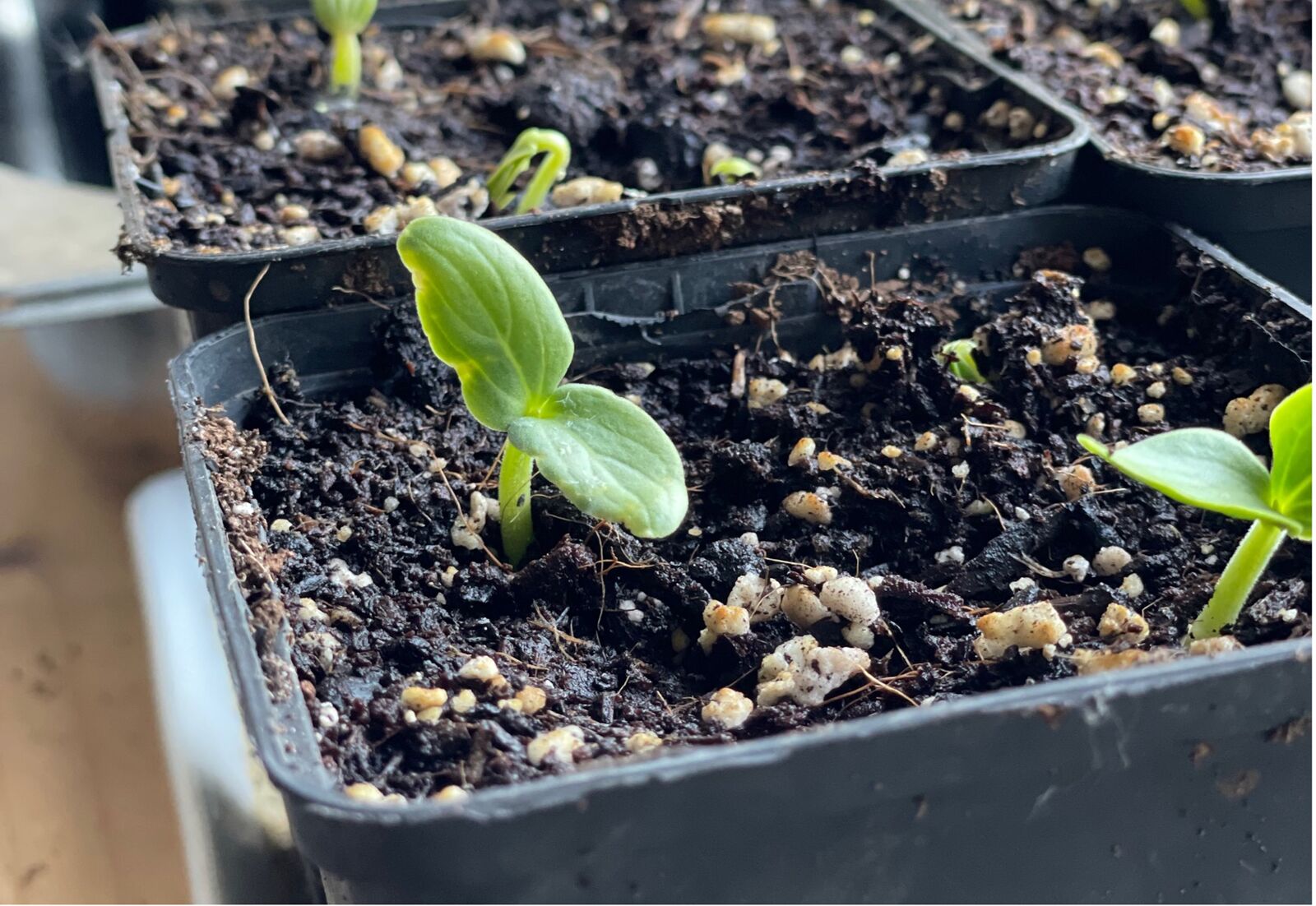 Planting out cucumbers: Timing & spacing
Only when the temperatures are already consistently above 15°C can you plant your seedlings outdoors. Before doing so, however, you should slowly acclimatize them to the conditions outside. You can find out how to do this in our article Hardening off plants.
Cucumbers need a lot of warmth, so a sunny location with well-drained, nutrient-rich soil is important. They can grow very tall as they tendril strongly. Make sure there is enough space between your plants. At least 40-60 cm if you let them climb up a trellis. If you plant them as ground cover, you should plan for a little more space. This ensures good air circulation and healthy growth, which keeps cucumber diseases such as mildew at bay.
You can find out more about how to care for and harvest cucumbers after planting in our article Planting cucumbers.
---
If you have any questions or comments, please write to us at [email protected]. Would you like to receive helpful gardening tips all year round and plan your own beds optimally? Then register here or download the Fryd app for Android or iOS.
Fryd - your digital bed planner
---
Cover picture by NGUYEN THANH HAI on Pixabay.
Frequently asked questions: Preplanting cucumbers